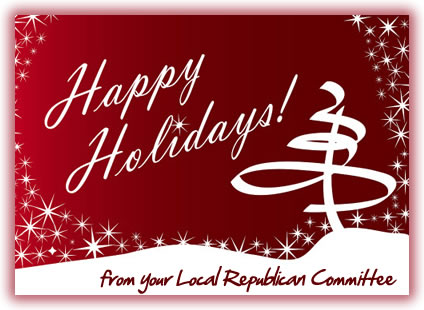 Would you like to get more involved with the
Livonia Republicans?
We are establishing a General Committee that will be able to help the committee with projects such as fund raisers & dinners, delivering signs for candidates, doing mailings, etc. We usually need extra help with the fundraiser in the spring, the Hemlock Fair, and the County fundraiser in the summer, and the campaigns and Chili Dinner in the fall. There are also times when we would like to have some additional input from this committee. So, expect that the General Committee will meet about three times a year.
Attend a meeting at 6 pm on January 6, at the LIvonia Inn.
If interested, please call Sue Englert at 346-6066
(leave your name and number on answering machine).
Livonia Republican Committee
District

District

Richard A. Williams, Chair

6

Helen M. Cicero

2

Frank P. Seelos III, Vice Chair

5

Peter W. Dougherty

5

Jack E. Brown, Jr., Treasurer

1

Susan K. Englert

3

Mark A. Lyons, Secretary

2

Gloria S. Henry

1

Kathleen C. Olson

6

Ralph C. Parker, III

7

Michael C. Sharman

7

Bonnie F. Turner

4

Kyle T. Whitford

4

Cynthia R. Wood

3
Click to send e-mail to the Committee




Click here for Election District Map & Poll Locations
Republican Elected Officials
Town of Livonia
Eric R. Gott, Supervisor
Frank P. Seelos, Deputy Supervisor
Andrew S. English, Councilman
Matthew T. Gascon, Councilman
Angela M. Grouse, Councilwoman
Colleen West Hay, Town Clerk
David M. Coty, Superintendent of Highways
Robert J. Lemen, Town Justice
David B. Mahoney, Town Justice
Village of Livonia
Christopher J. Genthner, Vice Mayor
Robert C. Leader, Trustee
Ralph C. Parker III, Trustee
What it Means to Be A Republican
(Click HERE for a full printable version)
I am a Republican because:
NOTE: You can read & print out the full version of "What It Means To Be A Republican" by clicking HERE

Join the NYGOP today
Click here to connect to their site

YES! You Can Help!
Click here
for more information


Click here for Election
District Map & Poll Locations
Republican Elected
Officials